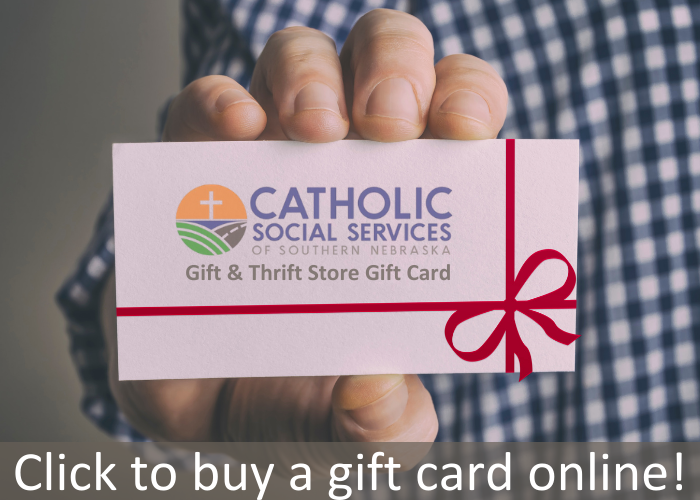 Hastings: St. Joseph Gift & Thrift Store
Hastings Donation Guidelines
Drop-off service:
Items may be brought to the green door on the east side of the building.
Items are accepted 8:30 am- 5:00 pm Monday-Friday and from 10 am-noon on Saturday.
Please call ahead if help will be needed for heavy or larger items.
Pickup service:
Items we accept:
Clothing (see below for further details)
Shoes, Belts, Purses
Clean Bed Linens
Other linens
Dishes
Small Appliances
Large appliances in good working order & clean (stoves, refrigerators, washers, dryers & freezers)
Furniture (free of holes, tears, stains, pet hair, & broken parts)
Matresses, Boxsprings, & Frames (free of stains, bugs, & tears)
Toys, Bikes, Trikes
Baby Items (except for items which are expired or recalled)
Home Décor
CDs, DVDs & Books (no textbooks, encyclopedias, or outdated reference books)
Jewelry, Sunglasses
Religious Items
Well-maintained & cherished Antiques
Inquire about items not shown above, and not on "not accepted" list
Items we do NOT accept:
Computers, desks larger than a roll-top or small computer desk
Pianos, organs
Home improvement materials (such as used carpeting & flooring, paint, light fixtures, drywall, interior & exterior doors, countertops, cabinets, medicine cabinets, etc.)
Most vinyl records, cassette tapes & 8-track tapes
Encyclopedias & textbooks
Water heaters, furnaces, & whole-house air conditioners
Most built-in appliances
Televisions, large entertainment centers
Used Venetian blinds, mini-blinds, & window shades
Partially used & older personal grooming supplies, & garden chemicals
Clothing donations:
Best if folded neatly in boxes or bags.
Clothing should be washed since it is sold as-is.
ready-to-sell items should have no holes, rips, stains, or broken zippers.
We recycle clean clothing not eligible for sale.
It is nice to have ready-to-sell clothing in bags or boxes separate from clothing to be recycled.
No clothing on hangers, please (unless for suits, coats, and nice dresses).
We accept shoes, boots, belts, purses, and other accessories.
We also recycle clean shoes, boots, and purses that are not in ready-to-sell condition.
Other recycling:
We recycle small metal items not much bigger than a floor lamp.
Stuffed animals not ready-to-sell.
Proceeds of our recycling programs are used for programs that benefit CSS clients. All are appreciated!
Donation acceptance is subject to the discretion of our thrift store associates and managers. Thank you for your understanding.