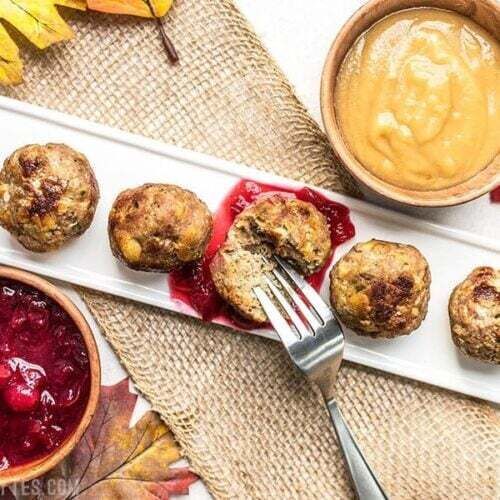 What can you do with "turkey in a can"? Here's a great idea! These meatballs use canned turkey and are a delicious (and frugal) addition to your family meal or a holiday gathering. No canned turkey? Substitute ground turkey! Like our last recipe, a box of stuffing is a key ingredient. This recipe and the ingredients will be shared in our Lincoln CSS Food Market the week of March 27th. If you make this recipe, drop a comment below and let us know what you think! Click here for a printable recipe sheet.
---
Turkey and Stuffing Meatballs
SERVINGS: 20 Meatballs
PREP TIME: 10 Min
COOKING TIME: 30 Min
RECIPE & PHOTO SOURCE: https://www.budgetbytes.com/turkey-and-stuffing-meatballs
INGREDIENTS:
6 ounce box Stove Top stuffing mix any flavor
1 cup hot water
1 14.4 oz can turkey
1 large egg, lightly beaten
2 Tbsp butter
Options: mashed potatoes, gravy, cranberry sauce
DIRECTIONS:
Preheat oven to 400ºF. Place dry stuffing mix in a large bowl, add hot water, and stir until no more water pools on the bottom of the bowl. Sit for 5 minutes to soften..
Add canned turkey and beaten egg to bowl with stuffing mix. Combine by hand until evenly mixed. Form mixture into 20 meatballs, slightly larger than ping pong balls (about 3 Tbsp each.)
Line baking sheet with parchment paper, place meatballs on parchment, and bake 20 minutes.
Melt 1 Tbsp butter in large skillet over medium heat. Add half of the baked meatballs and cook in butter until browned on most sides (about 5 minutes). Transfer browned meatballs to a serving dish, add second tablespoon of butter to skillet, and repeat with the remaining meatballs.
Serve warm over a bed of mashed potatoes or with gravy or cranberry sauce for dipping.