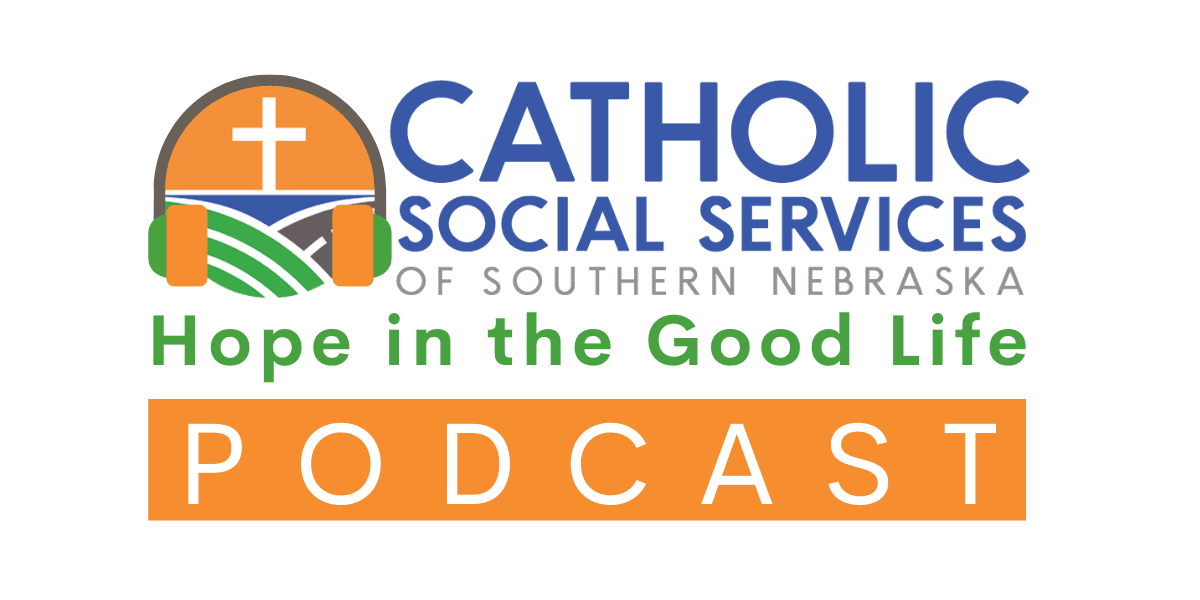 Listen to learn how Catholic Social Services of Southern Nebraska is bringing

HOPE IN THE GOOD LIFE

to our southern Nebraska neighbors!
Meet podcast host JOHN SOUKUP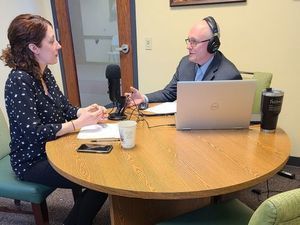 With more than two decades of broadcasting experience, Hope in the Good Life podcast host John Soukup has interviewed hundreds of people. When following God's plan to be development officer for Catholic Social Services of Southern Nebraska, he heard many stories of "hope" from those connected to CSS…stories from clients, volunteers, supporters, and staff. Those stories now have a voice and we hope you will be inspired by Hope in the Good Life.
If you have an idea for a podcast segment, we'd love to connect with you! Reach out to John at 402.327.6235 or by clicking here.
---
Click to listen and subscribe on your preferred podcast platform!
---
Podcast Episodes
Episode 22 Heart of Christ Award Winner Shirley Lang
Shirley Lang has humbly made a difference over the years. This year's Heart of Christ Award winner has worked with Catholic Social Services (CSS) over the years, having young women who chose life for their children stay with her during and after their pregnancies. Her love for His children extended to refugees fleeing violence. Years ago, CSS came across a teenage boy who arrived from Cambodia and was living on the street. Shirley and her family opened their home to this young man, who stayed with the Langs for more than two years. Hear how she felt so compelled to reflect the heart of Christ through the years. Click to learn more about Celebration of Hope 2023!
---
Episode 21: He's Not Afraid To Toot His Own Horn For CSS
For almost 20 years, Kevin Murray has been raising money for Catholic Social Services of Southern Nebraska with his trumpet. He heads up Trumpet Fest, taking place on February 19th at St. Joseph Catholic Church in Lincoln. Kevin tells us how this event not only inspires but also gives back in so many different ways through the gift of music. Click here to learn more about Trumpet Fest 2023!
---
Episode 20: Providing Hope One Diaper at a Time
Since 2010, Kay Wessel has been providing hope in the good life one diaper at a time throughout southern Nebraska. The diaper drives she's helped to organize through the years have resulted in more than a million diapers going to needy families. Kay tells us what inspired her to start this project and how it has gotten national and international attention.
---
Episode 19: Giving back by welcoming the stranger
After retiring from a successful professional career, John White wanted to find a way to give back to the community. Passionate about immigration and migration issues and following Catholic social teaching with regard to welcoming the stranger and the dignity of the human person, he chose to volunteer at CSS. He tells us how his work in cultural orientation is fulfilling.
---
Episode 18: Lindsay Found Hope with our St. Gianna Program
Lindsay was in an abusive relationship but knew there had to be a way out. She knew that God wanted something more for her and her son, so she prayed for a solution and soon found our St. Gianna Program (formerly known as St. Gianna Women's Homes).
---
Episode 17: A Childhood Memory on the Importance of Giving Back
Ameer Damanhoury didn't know much about CSS when we first met. The more he learned about the services we provide, the more compelled he felt to give back. The importance of giving back was something his mother taught him when he was a child through her example of helping the poor.
---
Episode 16: Doing the small things inspires Hastings CSS volunteer Charlene Diers.
Roy and Charlene Diers will be honored with the Love of Christ Award at the Hastings Catholic Social Services Bountiful Harvest Banquet on October 30, 2022. Charlene talks about how a saint inspires her and her husband to do the small things that make a big difference.
---
Episode 15: Nyabuoy Chan says Lincoln is friendly and welcoming to the refugees she helps
Born in a refugee camp in Africa, Nyabuoy Chan never imagined moving to America as a young adult to start a new life. She now uses that experience in her role as a CSS Refugee Resettlement and Senior Case Manager to help others find hope in the good life in Lincoln, a city she calls very friendly and welcoming to new arrivals.
---
Episode 14: Elaine Wagener is a "greedy volunteer"
"Why stick around that long?" "Because I'm greedy! I LOVE helping people!" CSS Lincoln is blessed to have Elaine Wagener as a hard-working volunteer who has helped in our thrift store, our accounting department, and our CSS Food Market. In this podcast, Elaine shares her journey to Lincoln and why she continues to help CSS bring Hope in the Good Life to our neighbors.
---
Episode 13: Even cancer won't diminish the hope Mary and her young daughter get from CSS
Despite facing stage 4 cancer, Mary is not afraid of dying. She's not afraid because she's found hope in her faith and the love she and her young daughter feel from the people around them, including those at Catholic Social Services of Southern Nebraska.
---
Episode 12: Sherry, CSS Lincoln ES client shares her story
"When we're down and hurting, we don't need someone to push us down further. We need someone to grab our hands and pull us back up. And that's what you did for me."
Meet Sherry. In this episode, she shares her story and how a kind hand-up from the CSS Lincoln Emergency Services team got her back on the right path and moving forward.
---
Episode 11: Steve Sousek and RUNBORN
"I'm on a mission to fuse my love of running with my passion for the pro-life movement, supporting both unborn children and women in crisis." Steve Sousek started RUNBORN as a way to raise funds for St. Gianna Women's Homes and the Women's Care Center of Lincoln.
---
Episode 10: Walk to End Hunger
You are invited to Walk to End Hunger! John Soukup interviews Mike Hosek, coordinator of the August 7, 2022, event to raise funds and food for the CSS Food Market in Lincoln. The event is sponsored by BetterLife and Knights of Columbus Council 13576 (at St. Patrick Catholic Church). You can donate online at bit.ly/walk426-13576. To participate, email Mike at mikehosek72@hotmail.com or call 402.570.9294, or just show up the day of the event!
---
Episode 09: Christ in the City
A group of young missionaries is in Lincoln, Nebraska, this summer that are committed to learning more about their Faith and themselves while serving the poor. They are bringing hope in the good life to our homeless friends and sharing their experience and expertise with CSS.
---
Episode 08: Dr. Courtney Miller talks about providing hope through counseling
Recognized as a nationwide leader in the integration of contemporary scientific psychology and the Christian vision of the human person, the Immaculate Heart of Mary Counseling Center (IHMCC) is another avenue through which Catholic Social Services of Southern Nebraska provides "hope in the good life". Vice President of Clinical Services and licensed psychologist Dr. Courtney Miller talks about the wide array of services IHMCC provides.
---
Episode 07: CSS helped Faheem Rashidi find hope in the good life
Faheem Rashidi and his family came to this country from Afghanistan in 2000 and were resettled in Lincoln by Catholic Social Services of Southern Nebraska. Today, he is a successful businessman who shares his story of how he found hope in the good life.
---
Episode 06: Give Hastings Day with Hastings CSS Regional Director John McDonald
Once again, Catholic Social Services is participating in Give Hastings Day (a 24-hour fundraising event scheduled for 5/5/22). In this podcast, hear Hastings CSS Regional Director, John McDonald, talk about the many services CSS Hastings provides, and why we're excited to be a part of this event.
---
Episode 05: Kathy Florence- HIS handmaid art
Auburn's Kathy Florence of HIS handmaid art shares more about how she is using her beautiful mosaic art to give back to CSS in thanks to God for His gifts to her. Kathy is also one of our wonderful St. Francis Gift & Thrift Store volunteers.
---
Episode 04: CSS Refugee Services Team helps our newest Nebraskans
More than 100 Afghan refugees arrived in Lincoln within a few short weeks after escaping from home country. Catholic Social Services Refugee Resettlement Services helped these new Nebraskans settle in to a new country and culture. Resettlement Director Poe Dee, and Senior Case Manager Elham Fazli talk to John Soukup of CSS about their experiences.
---
Episode 03: CSS Volunteer Renee Cunningham- turning housing into homes for Afghan refugees
Renee Cunningham is a volunteer for Catholic Social Services of Southern Nebraska. In this interview with CSS Development Officer John Soukup, Renee shares her experience of organizing a drive to provide household items for over 100 Afghan refugees arriving around the same time in Lincoln, Nebraska.
---
Episode 02: St. Gianna Program client discovers faith, hope, and God's love
Our St. Gianna Program (formerly known as St. Gianna Women's Homes) is a place of refuge and healing for survivors of domestic violence & crisis pregnancies. Catholic Social Services Development Officer John Soukup interviews "Nikki," a resident of SGP, as she shares how she discovered hope for herself and her children.
---
Episode 01: Introducing Katie Patrick, Executive Director of CSS
In this interview, CSS Executive Director Katie Patrick talks to host John Soukup about being the first woman, wife, and mother to lead the organization. She also shares a few of the challenges faced (and successes celebrated!) in her short time as Executive Director.