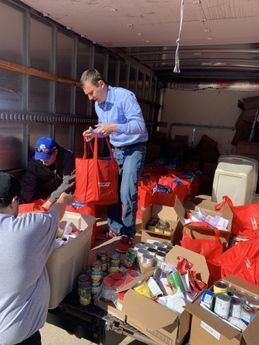 In partnership with the Food Bank of Lincoln, Catholic Social Services of Southern Nebraska brings monthly Food Markets to the families of Blessed Sacrament, St. Patrick's, and St. Teresa's. Parents will have the opportunity to select perishable and non-perishable food items made available that day at the food market. Please see the monthly schedule listed below. 
1st Tuesday of the month: Blessed Sacrament School (3-4 pm)
2nd Tuesday of the month: St. Teresa's School (3-4 pm)
3rd Tuesday of the month: St. Patrick's School (3-4 pm)
If your child attends a school not listed above, you are invited to contact the school office where the food market is taking place to make a request to pick-up food on that day. 
We understand that families often face financial difficulties at a moment's notice. This is why the monthly food market program is available to anyone who is struggling. Whether it is for one month or eight months that you need support, Catholic Social Services is here to make sure you have what you need to provide healthy meals for your family.
If you are interested in volunteering for this program, please follow this link to learn more.