Our MISSION: To perform the Works of Mercy in response to the call of God.
We trace our beginnings to 1932 when Bishop Louis Kucera founded CSS to respond to the needs of persons suffering the effects of the Great Depression. We are an agency of the Catholic Diocese of Lincoln serving under the auspices of Bishop James Conley. God has called us to build up the Body of Christ in southern Nebraska through the spiritual and corporal works of mercy. We are called to grow in holiness, walk in trust, serve with integrity, and faithfully proclaim the Gospel.
Our VISION: To inspire hope and love in every encounter. 
This statement is an aspirational goal that we strive to achieve every single day at CSS. We strive to inspire hope and love when we welcome the stranger and when we give drink to the thirsty and food to the hungry. We strive to inspire hope and love when we encounter each other and when we encounter our volunteers, community partners, and you, our supporters. In every encounter, that is our goal, and we'd be honored to have you join us on this journey.
Working together, our goal is to bring Hope in the Good Life to those we serve together.
Proud partner with the United Way to bring Hope in the Good Life to Nebraskans in need.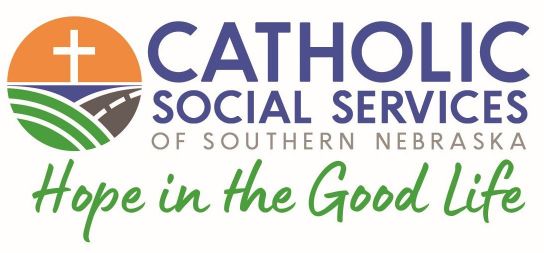 Our Rebranding Story
We wanted to show that we serve the entire southern third of Nebraska—both urban and rural parts—and we wanted people to know that we are Catholic and that the Eucharist binds us together and unifies us in our diocese. Hence, all of this is reflected in our logo. The blue represents the Platte River, which everything south of the Platte is where we serve—the Diocese of Lincoln. The green represents agriculture, the backbone of our diocese and state. The paved roads represent urban centers. And the cross and circle represent that we are united in the Eucharist in our Catholic faith.
Our new slogan also has a double intent: "Hope in the Good Life." Through our work at CSS we bring hope to the people we serve. But we know everything we do materially is derivative of a spiritual reality:  that true hope lies in the Life of the true Good—God. Hence, our hope comes from and brings people to God. And we are humbled to be His instruments in our work.
CSS aims to be a unitive force in our diocese. We do the good work of Christ and His Church. We seek to partner with all people of our diocese and we want all of us to be proud to be Catholic. At CSS we do not just serve Catholics—we serve everyone that we can because we are Catholic.


-Fr. Justin Fulton